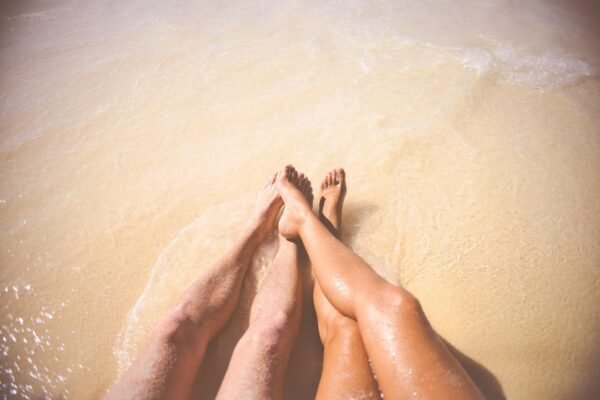 After a long winter that, at times, felt like it would never end, it is finally time for warm weather. With that warm weather, we (finally) get the opportunity to showcase all of the hard work we've put in throughout the long winter at getting our legs in shape and ready for shorts, skirts, and dresses. Even if you aren't thrilled with your progress or started hitting the gym a little late in the season (you're not alone), there's a lot you can do to show off your legs and make them look immaculate in the summer sun. These 11 tips will help you master showing off your legs in the summertime.
Dress To Accentuate Your Legs
There are a lot of products and techniques you can use to make your legs look smoother, tanner and even more toned. But, the most important thing you can do to show off your fabulous legs in the summer is dressing in ways that highlight them! Here are some tips on dressing to show off your legs.
1.) Pump Up Those Legs: Getting your legs to look great in the summertime starts with your footwear. Wearing slight pumps or heels doesn't make you a few inches taller; it makes your legs look longer too! For men, leave your high-top Nike's at home and opt for a low cut, flat shoe or sandal. This will show off more off your legs.
2.) Accessorize Your Ankles: Showing off your legs is all about drawings attention to them. Wearing an anklet, especially something metallic, can send the eyes to your legs. Anklets are an underappreciated accessory; you'll be surprised what a conversation starter they can be.
3.) Be Bold With Length: We're not saying you need to create a pair of Daisy Dukes, but don't be afraid to go a little shorter than you're used to. After all, you've put in the hard work to make your legs look great. So, shed the worry and wear some shorter shorts or finally break out that bikini or speedo to show off your entire legs.
4.) Pop With Bright Colors: Again, you want to draw attention to your lower half to show off your legs. Wearing something bold, colorful and exciting is a great way to achieve this. Leave your khakis or jean capris at home and opt for a bright, solid color. Colorful floral patterns or other prints are also great options.
5.) Power Of Pinstripes: Summer is all about bright colors and appealing patterns. Pinstripes may not be high on your list, but vertical stripes can be a great way to create an optical illusion that tricks the eyes into elongating your legs. So, break out your seersucker shorts and skirts!
Get That Summer Sheen With Lotions And Other Products
To bring out the natural beauty of your legs, it's a good idea to look at various moisturizers, self-tanners, lotions and other products. These items can help enhance the glow of your skin and make your already-great-looking legs look even better and healthier. Here are a few tips on what types of products to buy to elevate your legs to new heights (figuratively).
6.) Exfoliate With A Scrub: Your first step should be removing any dead skin on the surface of your legs with an exfoliate. If you suffer from severe dry skin, this is a necessary first step. If you're worried about spending a lot, you can make a scrub solution yourself. The basic compound is sugar or salt (sugar is indeed better) and oil, like almond oil or coconut oil, which you may already have in your home!
7.) Smooth It Out With Lotion: There are millions of lotions and moisturizers on the market, and they all look to achieve the same goal: make your skin smoother. You want to show off your legs, not a landscape of razor bumps and rough, uneven skin.
8.) Make Them Shine: With your legs looking smooth, your next step is to bring out that natural shine. There's a lot of bronzing self-tanners that create a subtle, but effective shimmer to your legs. If you're opposed to self-tanners, you can mix just a touch of it in with your lotions. This will create a softer tan and won't leave your legs feeling greasy.
9.) Contour To Finish: Contouring has become a popular trend in the makeup world, especially on social media and YouTube. Did you know you can also contour your legs? This will help bring out the natural highlights and shadows of the legs and make them look more toned! The drawback is you'll be going through contour makeup like its water in the desert.
Ensure Your Legs Are Healthy
While not a tip on how to show off your legs in the summer, it is important to remember that health is the overarching objective. Great looking legs usually means a healthy, in-shape person. But, there's a number of health issues that can occur, even if you're active and lead a healthy lifestyle.
10.) Assess Your Legs: Take a moment to think about how your legs feel on a day-to-day basis. Do you have any spider or varicose veins? Do your legs ever feel tired or sore, when you haven't done physical activity? These could be signs of a circulatory problem, which could lead to serious health complications.
11.) Visit A Vein Treatment Specialist: If you're worried about the health of your legs because you experience chronic tiredness or swelling in your legs, you should seek out a professional. They will be able to identify if you are at risk for conditions like Iliac Vein Compression Syndrome, also known as May-Thurner Syndrome.
Conclusions
With these 11 tips on showing off your legs for summer, you're ready to get out there and make the very most of the warm weather!